Missisquoi Museum : Exposition
May 26 to Octobre 13, 2019
Located just off Route 202 along the Wine Route, between Dunham and Bedford in the picturesque village of Stanbridge East, come and explore this jewel in the Eastern Townships which is the Missisquoi Museum.

Exhibition 2019 - Piecing the Story Together
The Missisquoi Museum is proud to present "Piecing the Story Together" from May 26 to October 13 2019. Throughout history, women and sometimes men have used the art of quilting for many diverse purposes: to keep warm, to decorate their homes, to express their political views, to remember a loved one or to document milestones such as births and marriages. Quilts tell us stories that reflect the lives of the people who created them in a particular time and place. "What sets this exhibition apart from other quilt exhibitions is the emphasis on social history," says curator Heather Darch. "Quilts were invariably made with the assistance of family and friends, even when only one quilt maker's name is associated with the final product. Knowing the background for each quilt allows us to appreciate the quilt itself but also to know a little bit about the life of the quilter." In the tradition of the art form, every quilt tells a story in the museum's collection.
This exhibition looks at the historic use of one of Missisquoi County's most important rivers and what impacts various human activities have had and the environmental legacy of today's use of the river.

The Cornell Mill Site, Walbridge Site and Hodges's General Store site will be open seven days per week from 11 a.m. to 4:30 p.m. from the last Sunday in May to the second Sunday in October.
All sites and picnic grounds are included in admission (10$).
Missisquoi Museum, 2 River, Stanbridge East
For more information, admission prices and for group reservations: Pamela Realffe - Telephone: (450) 248-3153
Stanbridge East Carrefour Culturel
All year long - See the website for event
By the end of the 19th century, Stanbridge East was known for its rich, diversified, cultural life. The village had an Academy, exhibition and reading rooms, a local newspaper, several artist studios and two churches. The Stanbridge East Carrefour Culturel intends to revive this flame by proposing events where visual arts, theatre and music, etc. will be represented. The village offers unique architecture with its museum (the former Cornell Mill built in 1830), its churches (the Anglican Church going back to 1833) and its numerous Loyalist style residences. The Carrefour Culturel wants also to emphasize this heritage by holding activities such as concerts, exhibitions and workshops. These activities will give residents of the municipality and of the entire Brome-Missisquoi region an opportunity to participate in these choice cultural events very close to their home.
Opening hours
See the web site - Carrement Culture,

Heritage Windsor
Wednesday to Sunday (In season)
Windsor Heritage is a family business located in the village of Stanbridge East.
Our purpose is to provide a place for the production and sale of Windsor chairs and other crafts in an environment where our customers can appreciate a coffee and a light meal and observe how Windsor chairs are made.
To make a hand-made Windsor chair takes a complete week. That's the time it takes so that future generations can benefit from it. Tony is happy and proud to share his skills. He offers courses in his workshop where students learn the art of working with hand tools, their sharpening, their maintenance and will be able to make their own chair.
Opening hours
Saturday and Sunday, from 8:00 a.m. to 4:00 p.m. (In season)
Heritage Windsor, 17a Nord, Stanbridge East. Telephone (450) 248-3692
Au Fil du Temps - Antiques
Wednesday to Monday
Originalement antiquaire à Dunham pendant plus de 27 ans, les gens nous reconnaissent par notre choix de meubles et objets anciens de qualité et par notre accueil chaleureux et personnalisé. Vous y trouverez les trésors que vous recherchez car nous vous offrons une belle variété de découvertes de toutes les époques en excellent état et à un prix raisonnable.
Située dans notre demeure ancestrale de 1834 (Elder's Tavern) au coeur du village, nous vous offrons une belle sélection de meubles et objets anciens de toutes les époques.
Pour amateur et collectionneur d'antiquités nous avons une belle gamme de meubles en pin, victorien et en chêne. Une grande variété de services de vaisselle, luminaires, courtepointes, bibelots, outils, bijoux, grande collection de chapeaux et d'objets uniques de qualité pour enjoliver votre maison.

C'est dans l'intimité et la quiétude que nous vous accompagnerons dans l'achat de votre coup de coeur.

Opening hours
From Wednesday to Monday, from 10:00 a.m. to 5:00 p.m.
Antiquités Au Fil du Temps, 1 Maple Street, Stanbridge East. Phone (450) 248-1165
MICHAEL LADUKE - STAINED GLASS
By appointment on weekends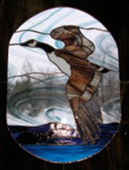 Add a touch of elegance to your environment, from traditional Tiffany to modern style. You will find in my workshop, stained glass for windows, lamps, mirrors and signs. Custom work using drawings or photographs.
Michael also gives courses. His students like to work in his studio and appreciate his patience and precision. It's entertaining to learn the art of working with glass from an artist with 36 years of experience.
Opening hours
By appointment on weekends
Michael Laduke – Stained Glass, at 2 Chemin Riceburg, Stanbridge-East. Telephone (450) 248-3871
WORKSHOPO - ATELIER DU PETIT ROI
Monday to Sunday
Creator and manufacturer of interior and exterior decorative objects. Bird baths, statues and creation of moulds for all types of projects.
Opening hours
Monday to Friday from 5:30 p.m. to 8:00 p.m. and Saturday and Sunday from 12:00 noon to 6:00 p.m.
Atelier du Petit Roi, at 23 River, Stanbridge-East. Telephone (450) 248-0767

MARCUS FLYNN – Wood Fired Ovens & Masonry Heaters
By appointment
Pyromasse builds and supplies all parts of wood-burning masonry heaters, ovens and cookstoves from foundation to chimney top, in new or inhabited residencies.
Operations: Construction of contraflow masonry heaters, European-style masonry bake ovens and cookstoves.
Experience: Construction of over 100 masonry heaters, ovens and cookstoves in North America and Europe. Though primarily self-taught, Marcus Flynn has, and continues to be, inspired, encouraged, and assisted by the masters of the North American field: Albert Barden, Norbert Senf, and Eric Nilsen.
Opening hours
By appointment
www.pyromasse.ca
Marcus Flynn – Pyromasse, at 10 Old Dunham, Stanbridge-East. Telephone (514) 928-9824